2021 has brought a number of late entries into cryptocurrency mining for Ethereum & Bitcoin. Currently, GPU's are being scalped for ridiculous prices. Please know that big changes are coming in how Ethereum is mined which will eventually eliminate GPU mining completely. Also, EIP 1559 could reduce current mining fees by 40%! Buying a card at 3x MSRP is not a risk I would take! You cannot calculate a long-term ROI based on current mining revenues. You will still be able to mine other coins, however, know the risks of investing in new equipment.
If you have a gaming PC bought in the last couple of years like the OMEN by HP 880-120, it will have a graphic card capable of mining. I will go into all the details on how to get started with mining in this article, as well as how to optimize your settings to get the best hash rate out of your NVIDIA GeForce GTX 1080 graphics card. This will also work on the GTX 1080i and Titan XP but your overclock settings will vary. Please understand that overclocking your card can cause serious damage, so proceed at your own risk! These are settings that work on my gaming desktop with no issues. Click the hyperlinked words to download software.
First Step- You need a wallet in order to store your collected Ethereum. I suggest using Coinomi because they have an app for your phone and it is versatile. Download here. Your wallet address is in the app under the coin in the receive tab. Email it to yourself, you will be using it in the next step.
Second Step-
UPDATE: 11/2021– I am now using nbminer because it does not require the ETALargement pill to maximize your hash rate. I get about 33MHs. Also, I think I am getting more accepted shares per day! The –memory-tweak 4 replaces the ETALargement pill the –api 192.168.1.216:21302 is optional and just allows you to specify the API address and port for monitoring your miner! Only Download NBminer from the official website here- https://nbminer.com/
You may need to run as administrator the first time you run it.
setx GPU_FORCE_64BIT_PTR 0
setx GPU_MAX_HEAP_SIZE 100
setx GPU_USE_SYNC_OBJECTS 1
setx GPU_MAX_ALLOC_PERCENT 100
setx GPU_SINGLE_ALLOC_PERCENT 100nbminer.exe --memory-tweak 4 -a ethash -o ethproxy+tcp://us1.ethermine.org:4444 -u WALLLETADDRESSGOESHERE.MACHINENAME --api 192.168.1.216:21302

or 

nbminer.exe --memory-tweak 4 -a ethash -o ethproxy+tcp://us1.ethermine.org:4444 -u WALLLETADDRESSGOESHERE.MACHINENAME 

You can skip this part below if you use NBMINER!
SKIP THIS PART
You need Phoenix Miner 5.5c. You can download it from the official site here. Please note, this is a password-protected file that must be opened with a program like winrar. The password is phoenix! I suggest extracting to C:\Mining\Software\Ethereum\. Once you extract this, find the file called 5_Ethereum-ethermine.bat and edit it with notepad. Below are my settings that worked best. Note: you will need to add your wallet number, and you can also name the worker anything you want. For example -worker NVIDIA could be -worker HPGaming. Replace C:\Mining\Software\Ethereum\ with the path to the file! Also, change the pool to match your location! My example is for USA East Coast.
Pool addresses:
Asia- asia1.ethermine.org
Europe- eu1.ethermine.org
USA east coast- us1.ethermine.org
USA west coast- us2.ethermine.org
Below is what you put in your .bat file. Bold can be customized as mentioned above.
setx GPU_FORCE_64BIT_PTR 0
setx GPU_MAX_HEAP_SIZE 100
setx GPU_USE_SYNC_OBJECTS 1
setx GPU_MAX_ALLOC_PERCENT 100
setx GPU_SINGLE_ALLOC_PERCENT 100
start C:\Mining\Software\Ethereum\OhGodAnETHlargementPill-r2.exe -revA
C:\Mining\Software\Ethereum\PhoenixMiner.exe -pool us1.ethermine.org:4444 -wal YOURWALLETIDFROMSTEP1 -worker NVIDIA -epsw x -mode 1 -log 0 -mport 0 -etha 0 -ftime 55 -retrydelay 1 -tt 79 -tstop 89 -coin eth
pause
Third- You will need a script called ETALargement pill to maximize your hash rate & prevent crashes. This only works on the NVIDIA 1080, 1080 Ti and Titan Xp! There are some altered versions floating around with malware, I downloaded mine here and verified the file size and md5 hash of the software. Put this file in the same path C:\Mining\Software\Ethereum\
The file size is 458,240 bytes & MD5 is 1351bf58a407fa5f89a6613e00a2e9df. On a side note, you can verify a file's HASH by using hash generator 7.0. This must be left running or Phoenix will mining will have errors.
END OF SKIP
Fourth Step- In order for ETALargement or NBminer to keep the P0 Power state, you must Download NVidia Profile Inspector. You want to scroll down to #5 -Common and change Cuda force P2 State to off and click Apply! This step is vital.

You can verify your GPU is in P0 Power state by creating a bat file or manually executing this from the command line:
cd C:\Program Files\NVIDIA Corporation\NVSMI\
nvidia-smi -q -d PERFORMANCE
PAUSE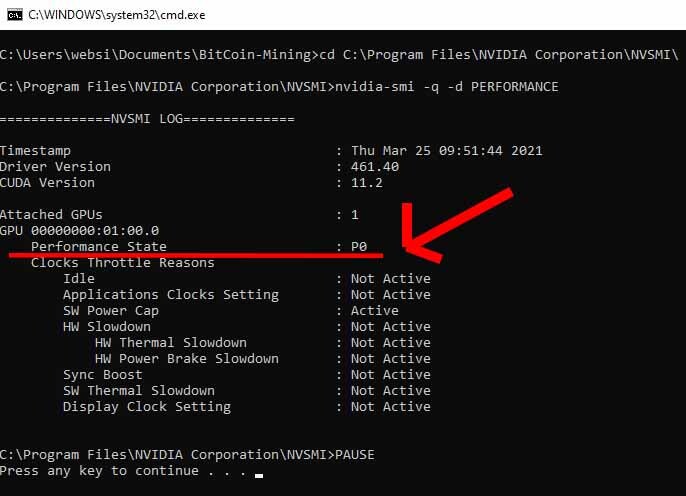 Fifth Step Download MSI Afterburner. This is where you will fine-tune your GPU after you start the C:\Mining\Software\Ethereum\5_Ethereum-ethermine.bat file mention above by watching the Eth Speed seen in the video below . Overclocking your GPU can damage or reduce the life, especially if you get carried away on the settings and use this at your own risk! The temperature should ideally never go over 70°C. There is no exact science on the settings because microchips vary in manufacturing. If you get a good one, many call it winning the silicon lottery! I spent a lot of time testing various settings. I was able to get 35.5 MH/s using Core Clock +225, Memory Clock +675, Power Limit 73 and fan speed automatic on an HP OMEN 880 gaming desktop. This can vary though! On redit, another user reported using Core Clock -50, Memory Clock +700, Power Limit 74 and reported 37 MH/s. When I set my power to 74, performance degraded, so you must try different settings to tweak your GPU. If you get errors when running the Phoenix 5_Ethereum-ethermine.bat script, this means you need to try other settings. Monitor closely for stability before leaving unattended. When done testing, click the windows icon to apply settings at windows startup automatically! Share your final results in the comments below!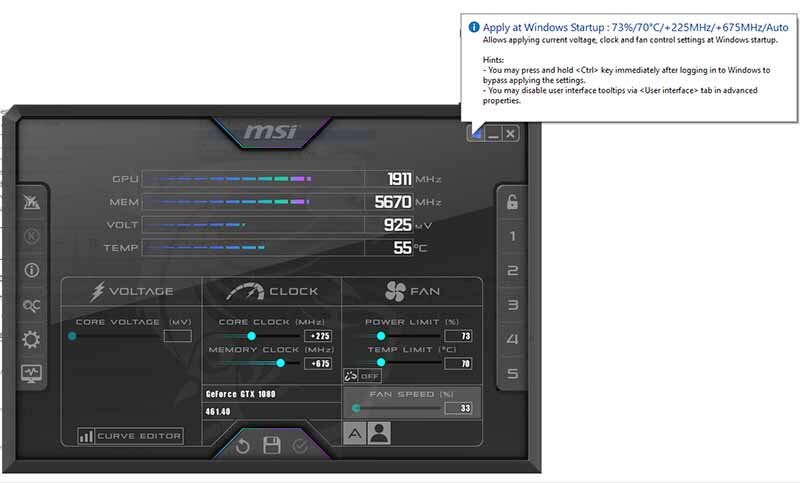 Ethereum Mining Hashrate on a NVIDIA GTX 1080
Optionally, if you wish to start your mining 5_Ethereum-ethermine.bat file when your computer starts, you will create a shortcut and copy it to the startup folder.
Right-click on 5_Ethereum-ethermine.bat and create a shortcut.
Right-click on the 5_Ethereum-ethermine.bat shortcut you just created, and select cut.
Go to the search the web and windows box (next to the windows startup icon) and type in run.
When the run window pops up type in shell:startup
Now you should be in the startup folder where you can add batch files.
Right-click and select paste or you can click the home tab and select paste.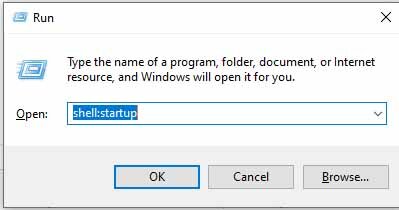 Wait about two hours and you can check the results of your mining on ethermine.org by putting your wallet number in the address below: https://ethermine.org/miners/YOURWALLETIDFROMSTEP1/dashboard The payout is confusing, but in short, you get paid every couple of weeks after your total is over 0.01 which is only about 15-20 dollars worth of ETH. Some people think it needs to be 0.1 but that is only to get paid daily.