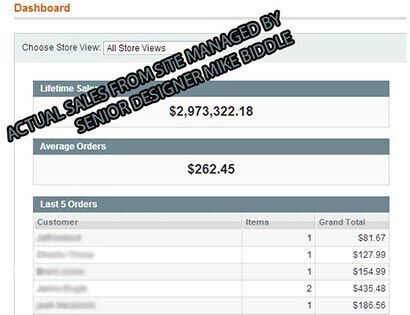 The first website that Website World designed in 1998 was a business e-commerce website! Since then, much has changed and we have helped business owners all over the world achieve their dream. The fact is, whoever oversees your website is one of the most important people in your business. Even if you are successful online, you could be leaving money on the table and missing sales by missing details you aren't aware of. Call us today for a free consultation 865-379-7171 or email sales@websiteworld.com Check out our shopping cart in action here-
https://www.pyrocreations.com/
If you are interested in accepting credit cards on your web site or mobile phone click here to apply for Authorize.net
Below is organic traffic from a very successful e-commerce site that we took over at the end of 2016. As you can see, in 2012, the site was doing well and then the organic traffic began to decline significantly and then eventually plummeted losing 79 percent of traffic after the Google penguin search update. It rebounded a little, but sales and website traffic never reached previous levels. After many excuses from the previous developer, the business owner contacted Website World, and we were able to get them back to the peak levels they ad not seen in five years!
Even with the reduced sales, this website had sales figures that many people would be happy with! This business owner had an advantage in this case. They had some success in the past, so they knew what was possible. I am constantly reminding people that you do not know what sales you may be missing out on from having the wrong person oversee your website, or trying to do it yourself. It took a few months to rebound the organic traffic, however Website World founder Mke Biddle implemented numerous e-commerce techniques which further increased sales immediately. Mike was able to collect previously customer data and migrate it to a better email newsletter which resulted in record sales of an email campaign! The details matter, the person overseeing your website matters!
We could go on and on, but the best thing you can do for your business is call us today, and let us help you! 865-377-9327. You can also use the live chat in the bottom right hand corner or email us.